Bath Bevy Review November 2017
Bath Bevy is a subscription box for the Bath Lover. Subscribe to receive bath products so tantalizing that they will pull you out of your daily grind and into the tub. Just add water. They curate a selection of quality bath bombs, bubble bath, bath salts, soaks, body scrubs, soaps and more! They kindly sent us this box for review.
I only recently started reviewing Bath Bevy and am already so impressed with this subscription. They do an amazing job every month, I have loved all three boxes (including this one) that we have received so far. Last month's box was especially exciting thanks to the Pumpkin Spice Latte Natural Deodorant……ya, that actually happened. I feel sorry for anyone who missed out on the October box. Hopefully you all realized the error of your ways and signed up for this month's box because it's shaping up to be just as good as last month's……
Subscription Details
When you sign up for a Bath Bevy subscription you can choose a month-to-month subscription, 3-month subscription or 6-month subscription.
What You Get: Each month we carefully select a combination of bath goodies that could be bath salts, soaks, bombs, bubble bars, bubble bath, body scrubs or anything else you can enjoy at bath time.  We feature different brands every month and everything in the box was tested by our Founder first!
Skip a month or cancel anytime simply by editing your subscription settings.
The theme for the November box is – Out of This world. Here's a closer look at the items we received…..
Nom Bom Co – Bath Bomb
Which one did you get? Rocket or Spaceship? Either way, prepare yourself for an amazing and colourful bath experience. Blast off with the scent of fresh cut oranges and effervescent grapefruit with a hint of vanilla.
How fun is this little spaceship! I'm a huge fan of bath bombs as it is, but when they come in fun shapes its even better. This one also appears to have a bit of gold shimmer……and I love me some gold shimmer. Out of all the items in this month's box this would be my least favourite when it comes to scent, but that's only because the rest of the items smell so darn AH-MAZING!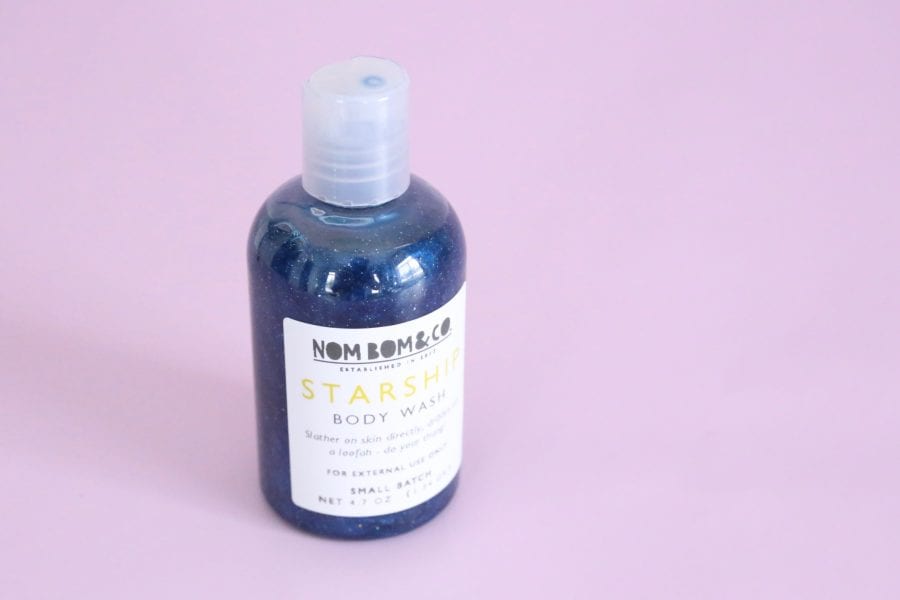 Nom Bom Co Starship Body Wash
Explore the galaxy and envelope yourself in the bright and citrusy blend of bergamot, lemon verbena, and lemongrass.
Eeek! This one looks super fun as well. It has just the right amount of glitter and it smells lovely. I can definitely smell the lemon verbena and the lemongrass.
La Luna Bath and Body Stardust Fizzy Bath Powder
A deconstructed bath bomb mixture that allows you to use as much or as little as you like! Goat's milk soap star and a cocoa butter moon! Scented with an enveloping blend of grape, peach and plum with sparkling citrus, rose and musk.
I am loving the idea of this deconstructed bath bomb…..it's genius! Sometimes I want just a little bit of bath bomb goodness and sometimes I want a whole lot of it. And, this particular item is the one I was smelling the minute I opened the box…..so good! I honestly can't stop smelling it.
Nirvana Bath & Body Space Oddity Bath Bomb
This gorgeous silver spacey treat is scented with an intoxicating blend of wild strawberries and vanilla with sweet undertones of violet and jasmine flowers.
And….. this would be my next favourite scent in the box. You can never go wrong with strawberry and vanilla. And again we have some sparkles. How fun is this box so far!!!
Luxurious Body Shop Cotton Candy Star Bubble Bar
A delightful combination of bath bomb and bubble bar with moisturizing oils, cocoa and shea butters for luxurious and skin-nourishing bath.
Oh no…..I think I spoke too soon when I said the last item was my second favourite scent in the box. I think this one has taken over second place, or maybe even first. It smells just like cotton candy. I want to eat it. And I LOVE that it is made with shea butter.
Cosmic Company Milk Way Lip Silk
Smooth, rich and silky! Made with purse beeswax sourced from the Pacific Northwest and combined with jojoba, essential and precious oils.
Lastly we have a fun little lip balm. It rounds out the box nicely…..don't you think?
Bath Bevy Review November 2017 – Final Thoughts
I am just so in love with this subscription box. Bath Bevy is an absolute pleasure to unbox every month. I always look forward to their themes, and I always love the products they include. I look forward to reviewing and researching each product individually. I usually spend some time on each company's website and always end discovering something interesting. If I was grading boxes on scent alone, this one would get an A+++. I usually like to share a few of the products from Bath Bevy each month with my nieces and other family members, but I don't think I will be able to part with any of them this month…..but then again, I feel like that was the case last month. I haven't seen a spoiler for the December box yet, but I have a feeling it is going to be pretty awesome. If you like bath products, you MUST sign up for a Bath Bevy subscription! Period.
XOXO
Explore.
Save.
Enjoy!
Sign up for a free account on A Year of Boxes to receive exclusive offers, be added to our monthly mailing list, and much more! We are always adding features to improve the experience for our users, from their valuable feedback!
Join Today!