The Hand Pilot Review December 2017: Adult Subscription Box
The Hand Pilot is a unique subscription box. Each box is curated to fit your declared experience and intensity level. Every box, every month will be different in order to ensure that each month you will experience a new sensation. Whether you are flying solo or have a co-pilot, The Hand Pilot will take your sexual experiences to new heights. They kindly sent us this box for review.
Coupon Code: Use code HAND20 to get 20% off your first purchase – CLICK HERE
The Hand Pilot is a brand new subscription box and this is our first time reviewing it. They only started shipping in September so let's go over all the details and get acquainted with this adult subscription box.
The Hand Pilot Details
Select Your Flight Plan: Will you be piloting a solo mission, or flying off with a co-pilot? Your choice here is mission critical, as it will determine the type of load your box is carrying, especially if you plan on foaming the runway.
Select Your Experience Level: What we place in your box is determined by your desired experience and intensity level. Experience levels range from Recreational pilot to Captain to Commander.
FLYING SOLO
Recreational Pilot: Guys, keep it simple. All the essentials you need to have an intense experience.
Captain: Our flagship product! The Captain is for men who want only the best tools to get the job done.
The Commander: The Commander Tier features one high-end product, plus a selected lubricant to compliment your experience.
WITH A CO-PILOT
Recreational Pilot: Helping you get ready for take-off! Featuring couples toy, game and lubricant!
Captain: Take your relationship to new heights! Themed box featuring 4-7 items that will help you explore new ways to play.
Commander: Want to nail the landing? Deluxe themed box featuring couples toy, game, massage product, lubricant and so much more!
Then We Ship the Cargo: Your box will ship on the 15th of every month.
Today we are having a look at the Recreational Pilot Box, a monthly box for solo users for just $19.
Jackit Masturbation Sleeve – reusable sleeve with insane texture.
Wet Elite Hybrid Lubricant – a unique blend of water and silicone.
Toy Cleaner – keep your toys clean & sanitary.
Tickler Ring – use during masturbation to contract the blood flow to your penis for a longer, more intense orgasm.
Condom – safe sex always!
Lubricant Samples – try before you buy.
Powerect Male Enhancement Cream – ready when you are to boost responsiveness and vitality.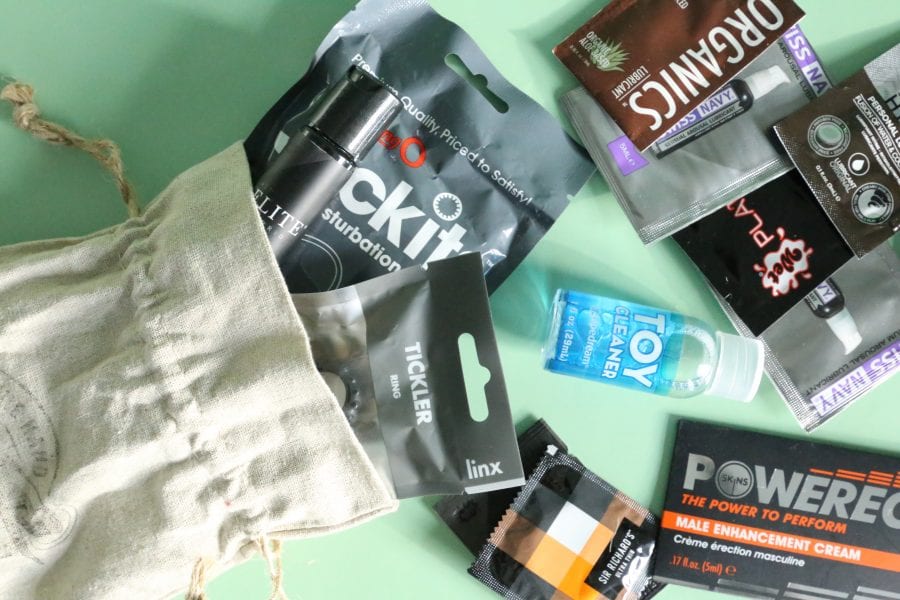 The Hand Pilot Review December 2017 – Final Thoughts
You all know how our Adult Subscription Box reviews go. We simply show you the products and give you all the details. We don't get into specifics but we do tell you our thoughts on the subscription offering. So……here's what I think about The Hand Pilot. I am very impressed with this box, especially considering the fact that they are still so new. They have only been shipping since September and it appears as though they already have their s*** together. Their website is informative and extremely easy to navigate. Their box is discreet and curated perfectly. I love that they have different subscription options and different price points. We received the Recreational Pilot Box which is only $19 per month – this is extremely reasonable. They provided a product card, a short description of each item, and they package it all in a canvas bag. Based on concept and organization alone, I am a HUGE fan. I think we can expect to see great things from this box, it's definitely one to keep an eye on.
XOXO
Explore.
Save.
Enjoy!
Sign up for a free account on A Year of Boxes to receive exclusive offers, be added to our monthly mailing list, and much more! We are always adding features to improve the experience for our users, from their valuable feedback!
Join Today!