Scentwist Review June 2019
I have been enjoying this fragrance designer subscription box by Scentwist for a while now and I gotta say I just love being able to get designer scents for a 10th of the price.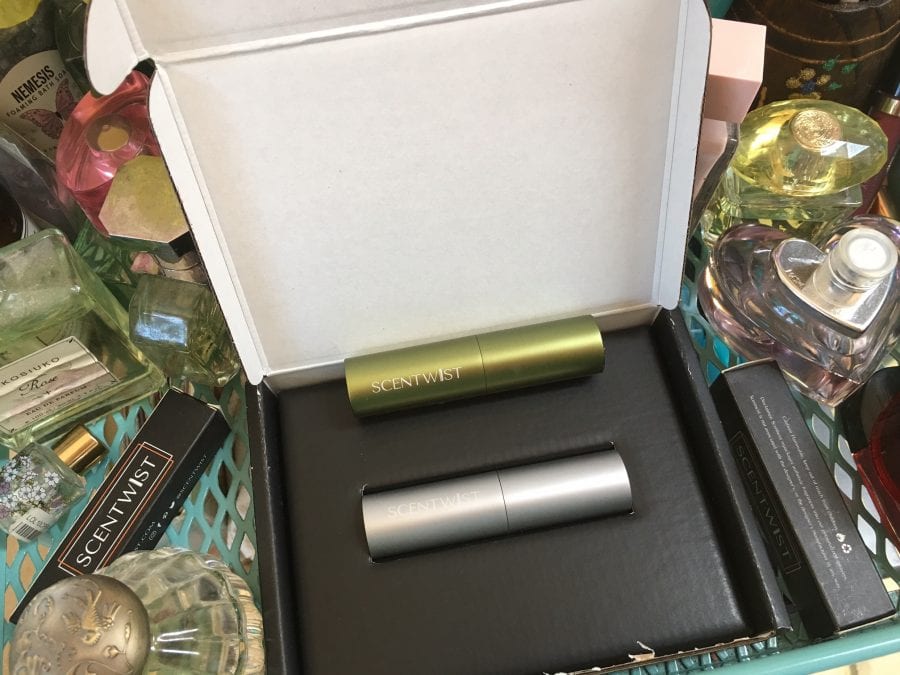 Signing up to Scentwist is super easy, you just need to pick the color of your case and every 4 months they send you a new one! To my surprise, this month I received my third case.
Then you can fill up 12 months of scents that you wish to receive each month or you can leave it to the experts to surprise you with the fragrance of the month.
I have my queue all filled up because it's not that I don't like surprises, but I have a long list of designer fragrances I'd like to try.
This month I received Bright Crystal by Versace. I already had the yellow Crystal bottle so I have been selecting different Versace's fragrances to try them all.
I was so surprised when I opened my box and found a stunning silver colored case! I rearranged my perfumes and bottles in my raskog cart and was really pleased to have it all displayed this way, what do you think?
This month's fragrance is Bright Crystal by Versace, that features top notes of yuzu, iced accord, and pomegranate. Mid notes of rose, peony, magnolia, acajou, and lotus flower rest atop sensual base notes of vegetal amber and musk. I love musk in fragrances and the mix of fruity and floral makes this a timeless scent. However, it is absolutely perfect for Spring and Summer.
In each monthly vial you get more than a month's worth of your favorite fragrance and it's not even over before you get the next one in your queue! Just pull the vial out of the case and replace it with the new one! Easy peasy. Then twist, press and get scented with a authentic designer fragrance. No more shopping at the mall and smelling samples that end up mixing all together.
Scentwist is $14.95 per month with free shipping in the US! What are you waiting to try it?
Lucia Metcalf – http://laughingwithoutanaccent.blogspot.com
Explore.
Save.
Enjoy!
Sign up for a free account on A Year of Boxes to receive exclusive offers, be added to our monthly mailing list, and much more! We are always adding features to improve the experience for our users, from their valuable feedback!
Join Today!