The Big Oh! Box Review April 2017 – Adult Subscription Box
The Big Oh! Box it is a quarterly subscription box for quality adult products organized around a theme for you or you and a playmate to enjoy. Each box will contain the necessary tools needed to get down and dirty and then clean again. From self satisfaction, partner play, BDSM & many other pleasures. They kindly sent me this box for review.
I review the quarterly Big Oh! Box subscription, which in my opinion, although not received often enough, is the better option. I believe their quarterly boxes ship January, April, July, and October. But don't quote me on that. I have been reviewing this box for more than a year now, and one thing is for sure, they are consistent and provide quality items. No cheesy adult products here!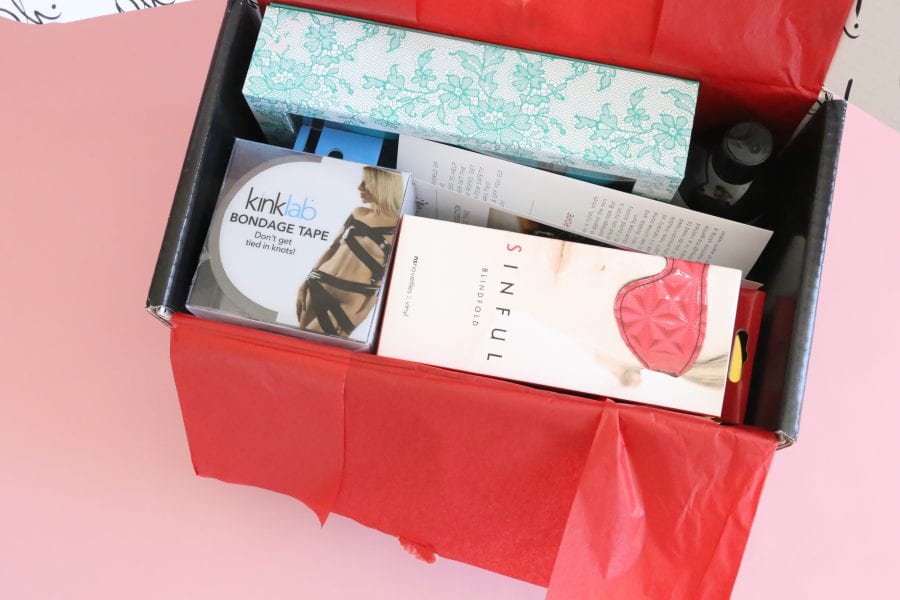 Subscription Options
Box Details: There are two options to choose from, Monthly or Quarterly
Monthly Box: Includes 3-7 items that will help you explore new ways to play
Quarterly Box: Includes 5-9 Items with an option to Pick Your Pleasure
Here's a look at the items we received this quarter:
Closet Collection Sophia Bendable Duo G Vibe Turquoise
Here's Sophia, the dual stimulator that sports an ergonomically correct, sexy, smooth and silky silicone shaft with a delightfully shaped external stimulator. With her gently bulbous head and effortlessly bendable body, Sophia will fill you in exactly the right spot and her perfectly shaped stimulator will touch you like no other toy can. Sophia will provide you with many hours of delightful pleasure, take Sophia home and she'll soon become your best bedroom friend!
KinkLab Bondage Rope
This soft nylon bondage rope is strong enough for serious play but is smooth and gentle on bare skin. The ends are finished by hand to prevent fraying. Keep a pair of our Curb-Tip Safety Scissors on hand while you experiment for quick releases.
Stored in a tin decorated with erotic Japanese art this candle can be lit for approximately 20 minutes to provide a sexy scent. The warmed liquid wax can then be carefully poured into a palm to be used as massage oil.
Sliquid Lubricant is safe, natural and vegan friendly. Formulated with women in mind, this lube is glycerin and paraben free, condom friendly and latex safe. Sliquid products are formulated by sensitive women for sensible women.
Reusable & non-sticky bondage restraint tape. Each roll measures 65 feet in length by 2 inches width. Bondage tape can be used as a blindfold, wrist restraints, ankle restraints and for body binding.
Sinful Blindfold
Get kinky in pink with the Sinful line. The Blindfold is a sexy comfortable alternative to the norm. Artfully crafted and featuring a soft elastic band that holds securely without intense pressure this is the only kind of blindfold you will ever want or need. Add a spark of excitement to your play time. Hide and seek mask. Designed for extended wear.
The Big Oh! Box Review April 2017 – Final Thoughts
Here's what I love about The Big Oh! Box:
Discreet packaging – no one will know what is arriving at your door
They have two subscription options to choose from – monthly & quarterly
They allow you to pick your pleasure, so you can play it safe or try something new
They ship worldwide
Each box is based around a theme
Once again we have a great box, with a fun theme, and it's full of quality products. I would have loved to see a product card discussing the theme but other than that they put together an amazing box. I am always happy with my Big Oh! Boxes. It is easily one of the best Adult Subscription Boxes on the market. This month's theme is a little out of my comfort zone, but isn't that the point?
Don't forget to use our coupon code if you are thinking about giving the Big Oh! Box a try:
Coupon Code: Use Coupon Code AYOB25 for 25% off new subscriptions or anything in the Big Oh! Shop – CLICK HERE
XOXO
Explore.
Save.
Enjoy!
Sign up for a free account on A Year of Boxes to receive exclusive offers, be added to our monthly mailing list, and much more! We are always adding features to improve the experience for our users, from their valuable feedback!
Join Today!