The Bookish Box Review June 2019
The Bookish Box is a women's subscription with a literary twist! This monthly themed box is curated with the geeky woman in mind! Customize your Bookish Box by selecting variations of shirts and enjoy some literary, full-sized goodies as well! They offer both Adult and YA books! Get book(ish), monthly. They kindly sent us this box for review.
If you follow the blog, or any of our social media, you will know that I am on a huge reading kick as of late. I just can't seem to get enough of it (reading, books, bookish goodies, etc). So, it should come as no surprise that I love The Bookish Box and would definitely recommend it to anyone else who loves to read as much as I do.
Subscription Details
The Bookish Box has 9 subscription options to choose from!
They support small shops
Bookish Goodies include: jewelry, enamel pins, pouches, totes, scarves, bookmarks, and more!
New release book every month!
Size inclusive!
Here's a closer look at the June The Bookish Box…..
The Beholder by Anna Bright
Selah has waited her whole life for a happily ever after. As the only daughter of the leader of Potomac, she knows her duty is to find the perfect match, a partner who will help secure the future of her people. Now that day has finally come.
But after an excruciatingly public rejection from her closest childhood friend, Selah's stepmother suggests an unthinkable solution: Selah must set sail across the Atlantic, where a series of potential suitors awaits—and if she doesn't come home engaged, she shouldn't come home at all.
From English castle gardens to the fjords of Norge, and under the eye of the dreaded Imperiya Yotne, Selah's quest will be the journey of a lifetime. But her stepmother's schemes aren't the only secrets hiding belowdecks…and the stakes of her voyage may be higher than any happy ending.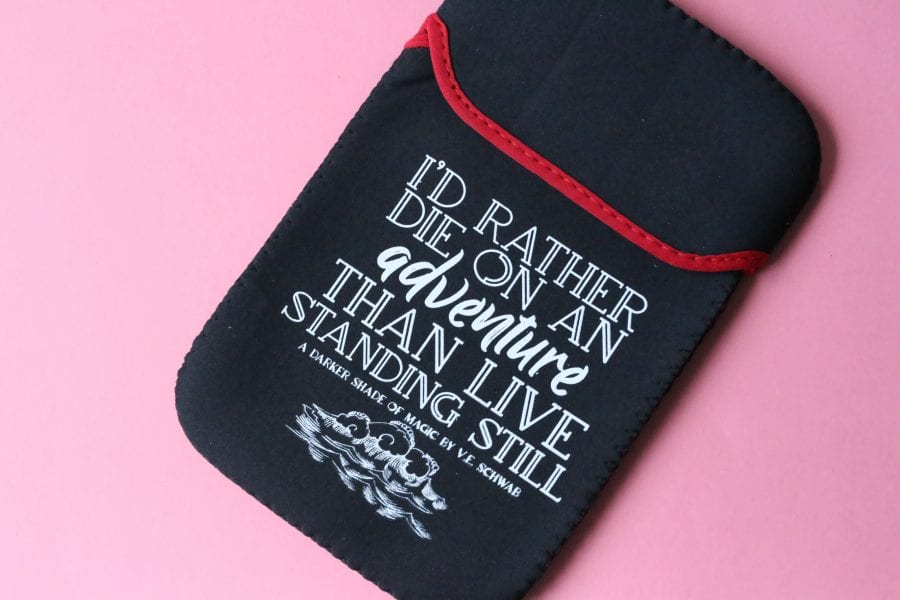 Booksleeve
Inspired by A Darker Shade of Magic, this is the perfect size for paperback books & e-readers. Created by The Bookish Shop.
This booksleeve is genius. It's the first time I have received something like this. What a great way to protect your paperback books when they are in your purse, bag, etc….
Dino Airplant
Inspired by Sarah from A Land Before Time, this airplant is the perfect shelf accessory and oh-so easy to care for. Created by The Bookish Shop.
Such a cute decor item for your bookshelf or desk. It brings back memories as I use to watch The Land Before Time when I was young.
Enamel Pin
Inspired by Nevernight, designed by Dust And Pages.
I'm starting to love enamel pins more and more. They are a great way to decorate your book bag, denim jacket, etc. This one says "you've got words in your soul".
Earrings
Minimalist rose earrings inspired by Beauty And The Beast.
These are the cutest earrings! I love the simple style and the small size. I prefer small earrings as they are easy to wear on a daily basis.
Zodiac Bookmark
Featuring Juliette from the Shatter Me Series for zodiac sign cancer. These collectable bookmarks feature parts of a map made whole once you collect them.
I love the idea of these collectable bookmarks. Not only are the useful (no need to bend the corners of the pages) but they also create a bigger picture once you collect them all.
Monthly Theme Art Sticker
Designed by Diana Dworak featuring Seafire character Caledonia Styx.
Shirt
Inspired by Beauty And The Beast, created by The Bookish Shop.
My favorite part of the box is often the shirt, and this month is no exception. Inspire by Beauty And The Beast, we received a navy shirt with white writing. It says "I Want Adventure in the Great Wide Somewhere".
The Bookish Box Review June 2019 – Final Thoughts
This month we were sent the Young Adult box for review, and as much as I would have preferred the Adult box (I really really want to read the adult selection for June – The Last Resort) I still appreciate this subscription and think it is a great option for any book lover. The bookish items make the unboxing experience that much more exciting, and the addition of the t-shirt brings it all together. You get something to read, items to decorate with, and something to wear. Overall The Bookish Box is a great subscription.
-AYOB
Explore.
Save.
Enjoy!
Sign up for a free account on A Year of Boxes to receive exclusive offers, be added to our monthly mailing list, and much more! We are always adding features to improve the experience for our users, from their valuable feedback!
Join Today!