Bowzer Box Review January 2019
Bowzer Box is a great subscription box service based in British Columbia, Canada. Each month they provide high quality treats, toys, and even samplers, from North American companies, shipped right to your doorstep. Each box is customizable to your dog's characteristics, such as size of your pet, and features an info card and Bowzer Box wrapping paper around the products.
Here's a closer look at the items we received this month……
Loyalty Dog Treats
This box was full of healthy and yummy flavoured treats for my dog. The first treat package was Sweet Potato flavoured from Loyalty Dog Treats. Roxy is a big fan of these treats and the treat sizes are great for medium-sized dogs.
The second bag of treats was also from Loyalty Dog Treats, in a Beef Tripe flavour. I am excited to support a Canadian owned and operated business, especially one that offers high quality and natural ingredients. Both bags of treats also feature resealable packaging which is perfect for keeping the treats fresh.
Vegalicious Bar
The final snack included was a Peanut Butter Blast bar from Vegalicious. I think this is such a cool treat to include and Roxy is a big fan of peanut butter, so she loved it. It was made in Canada, and is corn and gluten free.
Hero Dog Toy
This month's box came with two toys, which is great value. The first was a blue rubber bone, which Roxy loved – she played with it for hours once I opened the box. The toy was durable, and the material was good for gnawing on.
Penguin Toy
The second toy included was a large, quilted fabric penguin. It is made by fouFIT and is a great size toy for my pooch. She loves squeaking it, and the material is very soft. I like that they included 2 good-sized toys – and so did Roxy!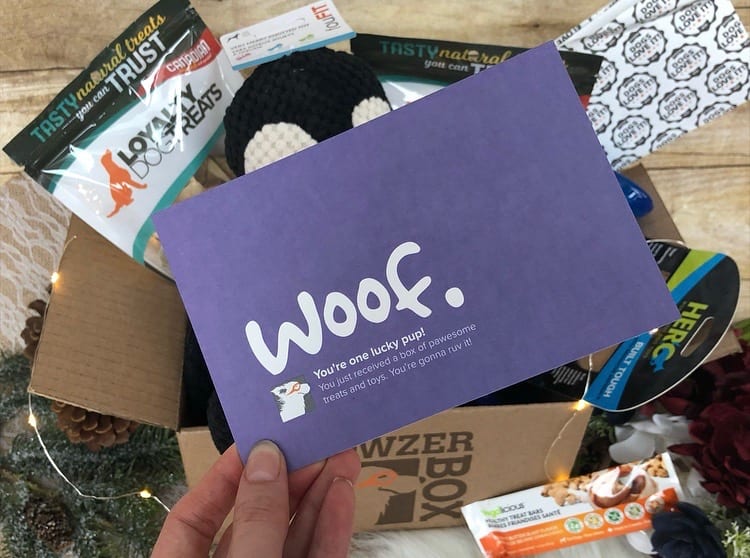 Bowzer Box Review January 2019 – Final Thoughts
Bowzer Box always impresses me with the quality of goodies included in their boxes, and this one was my favourite yet. The treats are healthy flavours, and Roxy loves them – but the blue bone was Roxy's favourite item included. For individuals interested in a local subscription box for their dogs, I recommend Bowzer Box.
Katelin – https://prettylittlelibrary.blogspot.com
Explore.
Save.
Enjoy!
Sign up for a free account on A Year of Boxes to receive exclusive offers, be added to our monthly mailing list, and much more! We are always adding features to improve the experience for our users, from their valuable feedback!
Join Today!