Mapleblume Review April 2018
Mapleblume is a premium subscription box of luxury cosmetic and skincare products containing only the highest quality ingredients that are beautifying and nourishing. The Mapleblume subscription box contains 5 full size or deluxe sample size skincare and cosmetic products. A new box is delivered to your door every 2 months filled with different products every time. They kindly sent us this box to review.
Every time I review Mapleblume I tell you how much I love it. Every time I open this box a smile comes across my face, and every time someone asks me about this subscription I tell them they must experience it at least once. I love luxury subscription boxes and always will. There's something really special about a box full of high-quality skincare. It's beauty at it's best.
Subscription Details
SUBSCRIBE: Sign up for the Mapleblume beauty box subscription option. Once you have subscribed, you will receive a brand new box filled with a minimum of 5 premium skincare and cosmetic products every other month. You will be automatically charged before each box is sent out ($120.00 per box) with no need to reorder.
ONE-TIME PURCHASE: If you don't want to subscribe, but you still would like to try the Mapleblume beauty box, or give it as a gift, simply sign up for the 'One-Time Purchase' option.
SUBSCRIPTION CANCELLATION: You can choose to end your subscription at anytime, just let us know by the 15th of the month before the next shipment.
Here's a look at the items we received in the April box…..
Spirit Solid Perfume from Vapour Organic Beauty – $51.00
Seductive and mysterious, Spirit No1 is a stunning unisex scent. Haitian Vetiver takes center stage in Vapour's first scent blend, emerging as a unique, dark, sweet floral in a lush, woody, green base. Additional notes of velvety rose and bright citrus evolve with body heat. Made exclusively with fine essential oils, absolutes and natural fruit essences.
First up we have a solid perfume from Vapour Organic Beauty. It has a floral/woody scent, maybe a little too flowery for my liking, but I do love the idea of a solid perfume. It's perfect for your travel bag or purse.
Radiance Ultra Toning Facial Oil: Passion Fruit & Neroli from Mythologie – $50.00
Firm and tone your skin with this powerful blend of organic and wildcrafted virgin cold pressed superfood seed oils. A perfect balance of omegas 3, 6 and 9 and the rare omega 7 this antioxidant rich treatment oil absorbs easily and delivers nutrients deep into your skin. Packed with vitamin C, Radiance boosts collagen production, clears sun spots and reverses signs of aging, giving your skin a luminous glow. Experience some of the most luxurious and precious oils the earth has to offer and radiate from the outside as well as the inside.
This is exactly what I was hoping to see in the April box, and it's one of the reasons I look forward to receiving my Mapleblume boxes. They always send us amazing skincare items. I'm almost out of my current facial oil so instead of purchasing another bottle I am going to test this one out. I have to be extremely picky with my skincare products right now but I feel more than comfortable using this one because of the amazing ingredients – passion fruit seed oil, rosehip seed oil, chia seed oil, meadowfoam seed oil and see buckthorn seed oil……just to name a few.
No.79 Hair Repair from Elyse Marie – $31.00
A few drops on the ends of the hair follicles not only seals cuticle, it also works as a healing agent for dry or split ends, protecting each strand from future damage and balancing PH levels. Perfect for everyone, this conditioning treatment adds shine and creates a virtually weightless result when used properly. Less is in fact more in this case.
I'm a huge fan of hair oil. I use some sort of oil treatment on my hair at least once a week. This one is to be applied to the ends of your hair but I might also use it as a conditioning treatment at the scalp. It is made with apricot oil, avocado oil, jojoba and lavender oil.
Provocative Palette from Nude & Noir Cosmetics – $59.60
Nude & Noir Cosmetics is a collection of four multi-use cream face palettes used to create an array of chic looks. These luxurious compacts feature highly pigmented hues that work harmoniously together. Each palette contains four compelling shades to highlight, sculpt, bronze, accentuate, smudge and color.
Briefs is a multi-use lip and/or cheek for that soft glossy nude pink.
Bustier is a shimmering charcoal for your day or night smokey eye.
Stiletto is a multi-use lip and/or cheek for just the right pop of color.
Aphrodisiac is a neutral brown cream for all your bronzing and contouring needs.
This might be the only product in this months box that I'm not crazy about. But that's only because I'm not too adventurous when it comes to my makeup routine. I love the idea of it though and I am positive Mapleblume subscribers will love this palette. I appreciate that it is a multi-tasking product and can be used on lips, cheeks, eyes and face.
Orange Rose Body Butter from OY-L Skincare – $38.80
Rich, replenishing and lightly whipped OY-L body butters are ultra-hydrating and rich with natural nourishing ingredients. Our high absorption formula quickly enhances your skin's health and softness. After a shower or washing hands, apply body butter. A little goes a long way.
I am strangely addicted to oranges right now so this body butter is really appealing to me at the moment. It smells just like a big ol' juicy orange and I am loving it! The jar is filled right to the top and they say that a little goes a long way so I am thinking this will last me a while.
Bonus: Deluxe Sample of the Ultra Daily Facial Moisture Cream from Lavido
This daily nourishing facial cream is rich in Omega 6 acid, vitamins and Organic Evening Primrose Oil. Softens and revitalizes the skins using organic essential oils.
It was very nice of Mapleblume to include a bonus item for us this month. These are the little details I appreciate. This is a great brand and it will be the perfect addition to my travel bag.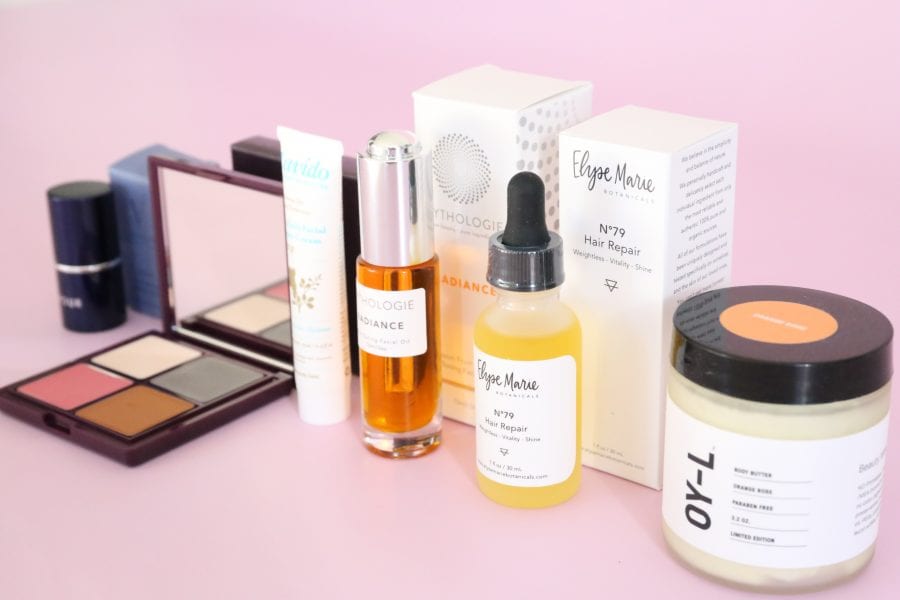 Mapleblume Review April 2018 – Final Thoughts
I have to be totally honest. When I first opened the April Mapleblume box I wasn't as excited as I have been when opening past boxes. I thought that maybe this month's box would be a bit of a "miss" for me. But……after spending some time going through the box and researching each item I discovered that I actually really love this month's box and am tempted to say it's one of my favourites. Isn't it funny how that happens? We can be so quick to form an opinion, but if we just slow down, take it all in and give things the attention they deserve we might find that our opinion changes. This is a lesson I've learned over the years, and this month's Mapleblume box was a nice little reminder to slow down and appreciate things for what they are. For all my fellow subscription addicts out there, I strongly suggest you do the same thing. Enjoy the unboxing experience, take your time with it, and really get to know each and every product you receive. You never know when you will discover a new favourite. I have a funny feeling that this moth's Mapleblume has provided me with a few products that will become go-to's products for years to come. I'm actually quite excited about it!
XOXO
Explore.
Save.
Enjoy!
Sign up for a free account on A Year of Boxes to receive exclusive offers, be added to our monthly mailing list, and much more! We are always adding features to improve the experience for our users, from their valuable feedback!
Join Today!