SocksMatter Review August 2018
SocksMatter is a monthly sock subscription that sends you two(2) cool and awesome pairs of socks every month. Right after you order, you will get a confirmation email that they're processing your order. After the payment is cleared, they will send you the socks. It would take from 5-7 business days to have the socks delivered to your door. For upcoming months, you will get your socks almost same date (give or take a few days). They kindly sent us this box for review. 
This is our first time reviewing SocksMatter but I'm pretty sure they have been shipping since February of this year. They are still relatively new and it's always exciting to discover new subscription boxes. The thing that stood out to me most was the fact that they have options for men and women. I LOVE new socks so I was pretty darn happy to see that they have a subscription for us ladies.
Subscription Details
When you sign up for a SocksMatter subscription you can expect the following:
They send 2 pairs of sock to your door every month
$12/month
Free shipping to US, $4 International
A couple things I love about SocksMatter Subscriptions:
You can pick a crew pair, ankle pair, no-show pairs, or just pick them all.
With every pair of socks you purchase, they will donate one pair (or something of equal value) to people/organizations in need.
You can skip a month or cancel anytime.
They have options for Men & Women.
Here's a closer look at the socks we received in our Women's SocksMatter delivery for August…..
Yellow Triangle Crew Socks
First up we have a bright yellow pair of crew socks with green detail at the top and black triangles throughout. They are great for summer given the bright yellow. The green at the top is kind of throwing me off but at the same time it makes me think of something growing in the garden. They are 70% cotton, 20% spandex and 10% nylon. They are said to be breathable, comfortable and durable.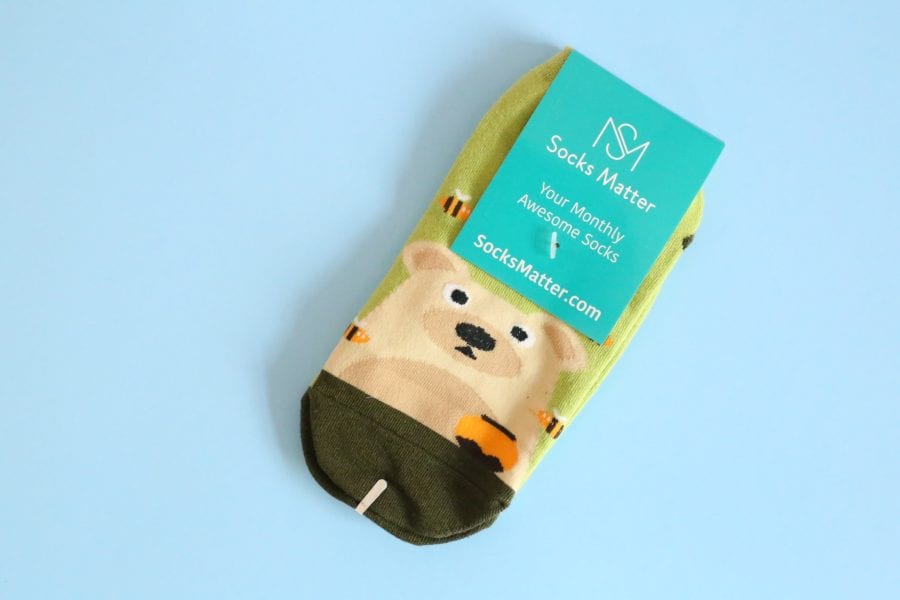 Bear Ankle Socks
For our second pair of socks (I LOVE that we receive 2 each month) we received these adorable ankle socks with cutest little bear surrounded by honey bees. I don't wear socks like this often but at the same time I love them. They are cute and fun and put a smile on my face.
SocksMatter Review August 2018 – Final Thoughts
Overall my August SocksMatter delivery was a hit. There are a few things I really love about this subscription:
the price point – only $12 per month
the fact that we receive two pairs of socks each month – 2 is always better than 1
the fact that with every pair of socks you purchase, they will donate one pair
they have options for men & women
In regards to our August socks specifically, they are bright and fun and I like that we received two different styles – crew and ankle. The only thing that would make this subscription better is if they had a 4th style option for us ladies – knee high socks. Other than that I am happy with my August delivery.
XOXO
Explore.
Save.
Enjoy!
Sign up for a free account on A Year of Boxes to receive exclusive offers, be added to our monthly mailing list, and much more! We are always adding features to improve the experience for our users, from their valuable feedback!
Join Today!