Vancity Box Review & Coupon Code April 2016
Vancity Box is still pretty new. I reviewed their first box in February and immediately fell in love. Their first box had my name written all over it. We received a box filled with all my favourite items – coffee mug, candle, greeting card, chocolate, and bath milk powder…..send me a box with all those items every month and I would be a happy girl.
If you aren't familiar with Vancity Box it is a new lifestyle subscription box that sends their subscribers a box filled with fresh new finds from around Vancouver city. This box was provided complimentary for review and may include affiliate links.
The Box: Vancity Box
Cost: $49.95
What You Get: Each month subscribers receive locally-made artisan products. 5-8 products with a value of up to $80 retail value. Soaps, snacks, drinks, handmade, knits, and much more!
Ships to: Canada
Shipping Cost: FREE
Coupon Code: Use code "AYEAROFBOXES" to get 15% off your first box – CLICK HERE
In a Jar Strawberry Pie – What a cute idea!! I'm a huge fan of cake in a jar, and was recently introduced to pie in a jar. The only downside to this item is that I'm going to want to eat it and I can't.
Fox & Fancy Canvas Bag – This is probably my favourite item in the box. I love canvas bags and will probably keep this one in my car.
Pure 2 Salon Goat's Milk Soap – I love natural soap, and this one contains lavender which is a favourite ingredient. I did a little research on this one and found out that this chakra soap represents Spirituality, Wisdom, Communication, Love, Confidence, New Experiences and Foundation.
Fox & Fancy Notepad – I love notepads, any kind of notepads, all styles and designs of notepads……very happy to see this in the box.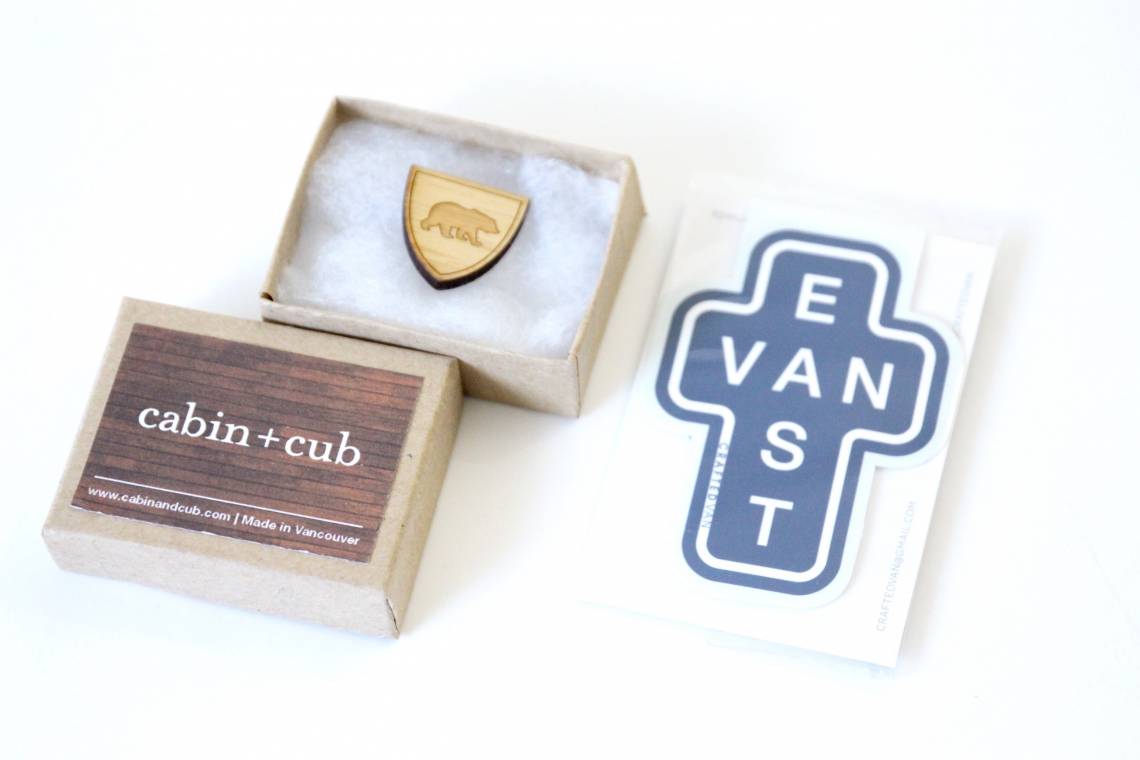 Crafted Van Magnetic Bookmark – This is a fun idea, but the fact that it says East Van on it kind of gives it a souvenir shop kind of feel.
Cabin & Cub Pin – This cute little pin isn't really my style, but I'm sure some subscribers will love it.
Balmbay the Collective Coffee Sugar Scrub – You can never go wrong with a good coffee scrub and I'm always happy to see it in my subscription boxes. This one contains cinnamon which is very interesting, I love cinnamon and am looking forward to seeing how it woks in a scrub.
Thoughts: Now that I have received 3 boxes from Vancity I'm starting to get a better feel for the subscription box. Each month seems to have a different vibe to it, which isn't a bad thing. The February box was a little more feminine (my favourite box thus far), the March box had more of a "foodie" feel to it, and this month is a little more masculine/artisan…….kind of. The February and March boxes were a little more my speed, but this month's box will definitely appeal to some subscribers. I love the canvas bag, I can never have too many of those, and the coffee scrub will definitely be used. Overall, this is a fun box that allows you to discover some great products and vendors from Vancouver City.
XOXO
Explore.
Save.
Enjoy!
Sign up for a free account on A Year of Boxes to receive exclusive offers, be added to our monthly mailing list, and much more! We are always adding features to improve the experience for our users, from their valuable feedback!
Join Today!